What's an LGP-30?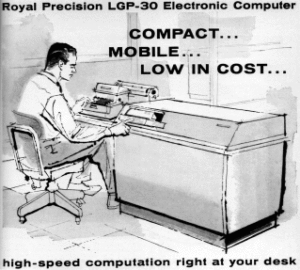 For starters, the LGP-30 is a compact (for its time) desk-sized computer utilizing 113 vacuum tubes and 1450 diodes. Input/Output is by way of a Friden Flexowriter and a magnetic drum is used for general memory (as well as the working registers and timing signals). It runs on standard 120V wall current and requires no special air conditioning. A high speed paper tape reader and punch was an option, but not mandatory as the Flexowriter has tape facilities.
The preliminary design, originated by Stan Frankel of Manhattan Project fame, was termed the MINAC. Librascope, a defense contractor in Glendale, CA, bought the design and began mass production in September 1956 as the LGP-30 (Librascope-General Precision); General Precision had acquired Librascope in '41.
[Article below from Librazette, Nov 1955]

Some great Librascope history can be found here: Librascope Memories
Click here for Frankel's "The Logical Design of a Simple General Purpose Computer" that was published in the IRE Transactions, March 1957. 
To market the machine, General Precision teamed up with Royal-McBee who already had a foothold in the office market with Royal Typewriters and other equipment. The machine proved very popular, the 400th being installed in 1960 with a total production run somewhere between 460 and 493. The solid state replacement, the LGP-21, debuted in 1962, but was not nearly as successful due to its slow speed. 
"Useful Applications of a Magnetic-Drum Computer", Electrical Engineering, July 1956.
In August, 1965, Control Data acquired the computer assets of Librascope and began refurbishing (then obsolete) LGP-30's. This machine (#393) is believed to be such an example as it has the updated Control Data nameplate on the front and the majority of tubes date from this period.
The following numbers have been found scribbled here and there throughout the machine:
152 (162?) masking tape inside side panel
159 inside of top cover
184 inside one of the (rear/front) panels
187 frame stamp (unsure if frame numbers were married to plate numbers)
375 on underside of Flexo shelf
393 'official' Serial Plate Number
Incidentally, #375 was held by Leonard W. Cooper of the National Lead Company of Ohio until Nov, 1964. So this timing also lines up with the refurb.
---