Blower Unit
One of the features of the LGP-30 is that it requires no special air conditioning to operate. Wikipedia claims heat rejection is 5000 BTU's, and to carry this heat away, a clever blower/vent system is employed. A squirrel cage fan mated to an industrial motor and plenum system pulls air in through 3 filters attached to the sides of the power supply
enclosure. This negative air flow keeps the germanium rectifier plates cool. On the output of the blower, air is directed to both card cage assemblies and to the Digital Display chassis via a flexible hose where the air is forced pass the cards and vacuum tubes.
The complete assembly was supplied by ILG of Chicago, IL and is really a nice piece of work. For a brief history, click here.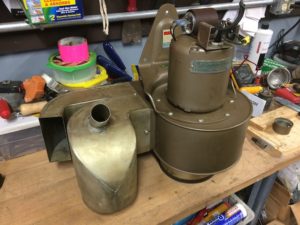 Jan 21/22:
With the power supply chassis removed (along with the dirty filters), I could get access to the blower assembly. After lots of scrubbing and vacuuming inside and out, I carefully pulled the motor wiring access cover and wired a 120V cord directly to the motor. The idea was 1) it's going to blow dirt and dust and I didn't want that in (now) clean assemblies. 2) Let's see if the motor bearings need attention. I hand spun it a few times, plugged it in and all I got was a hum. The only obvious culprit was a bad starter cap (5uF 330VAC). A replacement was ordered and work shifted to other assemblies.

Jan 26:
The start cap arrived and after some manual assistance with the motor, it spun up and really moved some air. More bad news, though. While the shaft spun freely by hand with the heavy squirrel cage fan mounted, it howled at speed. I proceeded to remove the ducting, pulled the motor and split the end bells on the workbench. Both shaft bearings were toast. (New Departure 88013). With the aid of my hydraulic press, I was able to remove both from the rotor shaft and ordered suitable replacements on the net. In the mean time I cleaned up the motor parts, mounted the (smaller diameter) cap and gave the mounting bracket a coat of paint.
Feb 4:
The new bearings arrived and I tried a trick I had read about…I kept the motor shaft in the 0F deep freeze for several days prior, and heated the new bearings to 250F in the oven for 25 minutes. Working fast, I was able to get each to drop into place on the motor shaft. One set correctly, the other needed an 1/8″ 'nudge' with the press as the shaft was slightly expanded by design. An hour or two later, I had the motor reassembled and wiring dressed and proceeded to reattach the plenums. With the unit back in the machine, and wired to a cheater cord, we had major air movement and smooth, quiet operation. This concludes work on the blower.